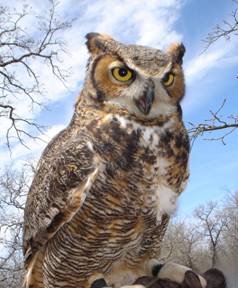 Great Horned Owl – "Timber"
(Bubo virginianus)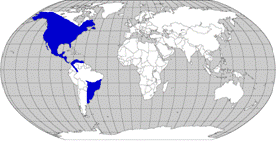 Distribution: Great Horned Owls are found throughout most of North America south through parts of South America.
Size: Great Horned Owls are 18-26 inches long, have a wingspan of up to 5 feet, and weigh 2-5 pounds.
Diet: These owls eat small and medium sized mammals, birds, reptiles, amphibians, fish, insects and occasionally carrion.
Lifespan: The Great Horned Owl can live over 20 years.
Reproduction: Great Horned Owls, like all owls, do not build their own nest. They use abandoned stick nests (usually from red-tailed hawks), tree hollows, cliff ledges, or cave entrances. The female incubates 1-3 eggs for 30-35 days. The young fledge around 10 weeks of age. The fledglings are tended by the parents for up to 5 months.
Did You Know?
The 'ear tufts' on the top of a Great Horned Owl's head aren't ears. They are tufts of feathers that help break up the owl's outline for camouflage.
Their ears are located under the feathers on their face.
The Great Horned Owl is one of the few species that will prey on skunks.