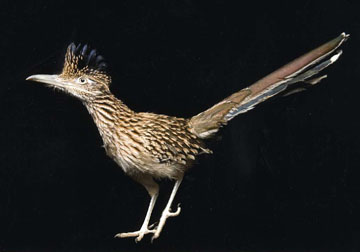 Greater Roadrunner – "Cholla"
(Geococcyx californianus)
Size: Greater Roadrunners are 20-21 inches long, have a 19 inch wingspan, and weigh ½ – 1 pound. Males are somewhat larger than females.
Diet: Roadrunners forage on the ground, feeding on a variety of reptiles, birds, small mammals and arthropods (such as insects, scorpions, and spiders), and fruits. Prior to consuming prey, they repeatedly beat large animals on a hard surface while holding them in their beaks. During a severe shortage of food the roadrunner may eat its own young.
Lifespan: Wild roadrunners can live for 7 years.
Reproduction: Breeding first occurs around one year of age. A shallow nest, placed low to the ground, is constructed of thorny sticks and lined with leaves, grass, feathers, snakeskin, etc. The male gathers most of the nest material while the female constructs. Usually three to six eggs are laid, which both parents incubate for 19-20 days, except at night when only the male roadrunner incubates the eggs. Young fledge at 14-25 days of age, but remain nearby to forage with parents for an additional 30-40 days.
Did You Know?
Greater Roadrunners can run in excess of 15 miles per hour!
Through salt glands located at the front of its eyes, a Greater Roadrunner will excrete excess salt from its blood.
It's very difficult tell which direction a roadrunner has gone by looking at its tracks. This is due to its having zygodactyl feet, where two toes face forward and two toes face backward, creating an x-shaped track.