National Geographic photographer Joel Sartore visits Oklahoma to benefit area students and the Sutton Center
On October 3 and 4, 2002, a unique educational opportunity was provided for area seventh grade students from Bartlesville, Collinsville, Dewey, Jenks, Pawhuska, and Tulsa. National Geographic photographer, Joel Sartore, was at the Community Center in Bartlesville for a special event with the Sutton Avian Research Center, sponsored by F&M Bank in Tulsa and Doenges Ford, Lincoln-Mercury, Toyota in Bartlesville.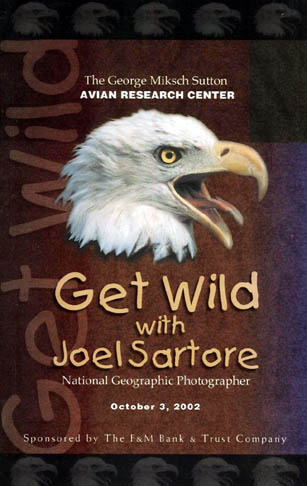 Sartore provided a behind-the-scenes look at the adventurous life of a photographer working for National Geographic.
Entitled "Escapades of a Wildlife Photographer," the 45-minute program included a mixture of his award winning photos, film shorts, and educational orations about his professional photographic encounters.
In addition to providing captivating stories and photos, Sartore's intent for his visit was to provide a heartfelt message of concern for wildlife populations worldwide. "Geographic has sent me all over the world, and I have witnessed firsthand the loss of habitat and the declines of wildlife species" he said. "What happens to wildlife will eventually happen to people, and we should care about that."
That same evening, Joel was the speaker at a special Sutton Center fund raising event hosted and sponsored by The F&M Bank and Trust Company in Tulsa. Fine food and cocktails were provided as guests viewed silent auction items being sold to support the work of the Sutton Center.
In addition to a number of matted and framed photographs by Joel Sartore, other auction items included gifts of paintings, outdoor sporting equipment, recreational trips, fine dining, local history tours, and more. The evening culminated with a slide show given by Joel, which proved to be informative as well as entertaining.
Joel Sartore was born in Ponca City but has lived most of his life in Nebraska. After working as a photographer for The Wichita Eagle newspaper, he became a contract photographer for National Geographic in 1990. His work has also appeared in Audubon, Life, Newsweek, Sports Illustrated, Time and numerous book projects including the "Day in the Life" series.
His adventures have been the subject of several national television shows including National Geographic Explorer and CBS This Morning. Joel and his mother National Geographic photographer Joel Sartore and his mother Sharon.
Joel first became acquainted with Bartlesville's Sutton Avian Research Center when he photographed their work for a major article on Bald Eagles in the November 1992 issue of National Geographic, and he has continued to stay involved with the Sutton Center since that time. Sartore's most recent article in National Geographic is about highly endangered Attwater's Prairie-Chickens in the March 2002 issue of the magazine.
He has photographed fascinating animal species all over the world from Bolivia to Alaska to Great Britain and has adventure stories to match. Grizzly Bears (July 2001), Gray Wolves (May 1998), Nebraska (November 1998), Dead or Alive (The Endangered Species Act; March 1995), Federal Lands of the West (February 1994), and Hurricane Andrew Aftermath (April 1993) are just a few of his many features that have appeared in the internationally acclaimed magazine.
Some of Joel's Work can also be seen at his web site, www.joelsartore.com. Event sponsors included:
The F&M Bank & Trust. Co. in Tulsa
Doenges Ford
Lincoln-Mercury
Toyota in Bartlesville
This event was featured or publicized by the following media outlets:
Tulsa World Tulsa Shutters to click on photog Shaun Schafer, Sunday, May 26, 2002
Tulsa World Wildlife photographer to speak Shaun Schafer, Sunday, September 22, 2002
Tulsa World Well-known photographer to make picture-perfect event Dana Sue Walker, Sunday, September 29, 2002
Tulsa World Picture This Saturday, October 5, 2002
Bartlesville Examiner-Enterprise Local Students visit with National Geographic photographer Sunday, October 6, 2002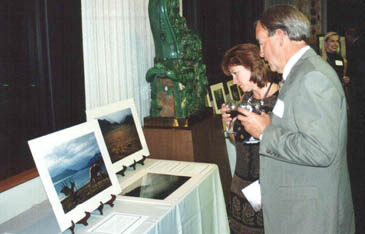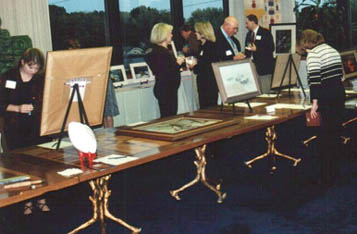 Guests view and bid on silent auction items donated to help fund Sutton Center projects.